So you have a wide red and white stripe knit and you love the feel of the knit and want to make a top from it but......
You don't want to look like
Where's Waldo
!!!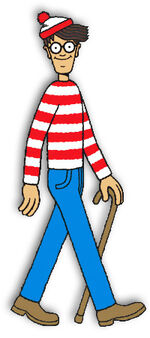 photo from this site
Fabric information....
Style Maker Fabric's Rugby Stripe Modal Jersey Knit
and it is a really good knit, soft and drapey. The neckline binding is
Style Maker Fabric's Modal Jersey
I went through my patterns and pulled a couple of possibilities. Then I remembered a pattern I hadn't made for quite a while,
Patterns for Pirate's Pumpkin Spice Dolman
. I made it
here
and one other time which I didn't blog. The first one didn't have enough stretch and the sleeves were always so tight.
This knit has great stretch so it worked perfectly for this pattern. I did shorten the sleeves quite a bit, works better for summer.
I wanted a slouchy, comfy t-shirt for summer and this one fits the bill. The dropped shoulders, curved hemline and deep neckline are perfect for a stylish tee and not a Waldo-esque look!
Plus this works well tucked in
Right after the spring Style Maker Fabrics' Spring Blog Tour, I ordered several fabrics. I have decided it was time to sew all that yardage up. Eight fabrics for eight garments. This is the first one, started with a quick knit. I am going to continue with three more knit projects and then the Landers are up next.
So Where's Lori?