Meredith wanted to do a bit of sewing on Saturday and I convinced her to making a bag. This was the last new pattern from my recent bag/purse buying spree. It is from
Tiny Seamstress Designs
and called
Little Miss Business Bag Pattern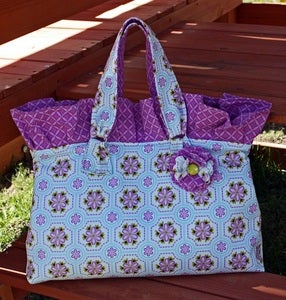 Photo from Tiny Seamstress Designs site
I helped her a bit, did the ruffle on my machine with my ruffler, interpreted the instructions, etc.
I think she did a fabulous job and Meredith was so pleased on how quickly it went together. Two changes, we made the ruffle smaller and I used peltex on the lining to give this big bag some support.
While Meredith worked on this bag, I worked on her
Kimi Rose pattern
with the fabric she picked out. Which is called
Crazy Love by Jennifer Paganelli
and I think it has a 60's vibe.
I am really
proud
of Meredith, as her sewing skills continue to improve and it was fun to spend the afternoon in the sewing room with her.
Note: Both pictures were taken with Meredith's camera phone.
*****************************************************************************
Meredith had to work today,so it was Kaitlyn – Mom time at Joann's and other shopping errands. I restocked on Peltex, fusible fleece and SF-101 from all this bag making. Two more to go, a Kimi Rose for Erin and another Weekender for a friend.
And I did buy four pieces of fabric at Joann's, garments here I come.