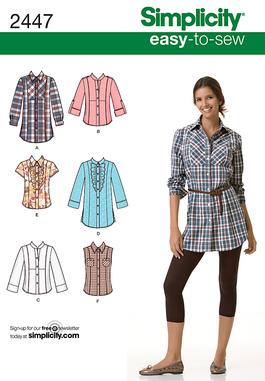 Description: Misses' shirt in two lengths with front, collar and sleeve variations
Sizing:
6 to 24
Instructions:
They were very good, easy to follow and understand. Nice diagrams for attaching the sleeve tab and front insert area
Likes/Dislikes:
I like the lines of the shirt, princess or use the front insert piece to use plaids on the bias. Also, sleeve variations and the length. You could lengthen it even more and have a shirt dress.
It is a bit short for the shorter length, I added my 1" and it will be fine. So measure that with one of your favorite blouses to get the right length for comfort.
Changes
: Just added the 1" to the body and sleeves. I forgot to add 1" to the sleeve tab and it has to button below the tab stitching line on the sleeve.
I also cut two pieces for the back yoke and used one for the lining.
Fabric:
A shirting from Joann's with a bit of tone-on-tone texture. It wrinkles easily, as you can see in the pictures, so I am a bit apprehensive how it will wear.
Conclusion:
A very cute shirt and I have seen the tab button sleeves in several RTW garments lately. It is a bit loose fitting but not oversized, perfect for a warm summer day.
No funny wrinkles, just a strong wind, making the blouse fold funny on the right side.
Piece #3 out of the stash, two to go.