Let's start with the Good
Pattern:
Simplicity 4077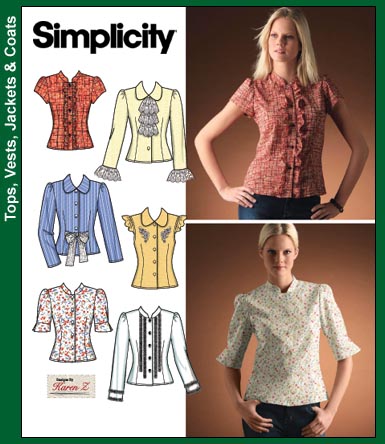 Description:
Misses' Blouse with trim, collar and sleeve variations
Sizing:
6 to 22
Instructions:
They were pretty good, the collar is confusing. This was stated in almost every review on Pattern Review and they were right. I thought I would make view E with the collar from view F but the ruffle doesn't allow this possibility. I would read the collar instructions several times before beginning the construction. If I would have done this, my seam ripper would have had some rest! Other than that the instructions are fine.
Likes/Dislikes:
I really liked the princess seams and the ruffles at the front facing.
Also, this pattern has a separate piece for the front facing (button placket) and I think a blouse always looks more RTW with this option. Also, this blouse fits very nicely.
I didn't like was the collar instructions and the fact the long sleeve variation doesn't have the traditional blouse cuff. I could have substituted from another blouse pattern for this look.
Changes:
I added 2" to the length and 1" to the sleeves. This was not enough on the sleeves, so I added the cuff from view D. I am quite pleased on how this turned out.
A bit blurry:
Fabric:
Cotton shirting from Joann's
Conclusion:
I don't know if I will make this blouse again. I will probably use some of the design features from this blouse and use them on a more traditional blouse. I am thrilled with the fit of the blouse. Also, I am thrilled with my buttons on this blouse. If you read my blog much, you know I am sometimes button challenged! I have a terrible time choosing buttons. I put the blouse on my dressform and then pinned my button choices on. This helped in my decision. These buttons came from a
Pam
So here is the good and it is sooo good.
Now the bad, not really bad, just had to have something to use for the title. I made my very favorite knit t-shirt pattern, Simplicity 4076, using some cotton/lycra from Needle Nook, a purchase from ASG. I guess the bad will be the blurry pictures.
Now the ugly, BWOF, 8/2008 #118, the tunic dress.
I am not going to do much of a review on this one. It goes together very quickly. If I made it again (doubt that), I would just gather the front piece instead of pleat. I think you would get the same look. I like the neckline but not sure about the rest. I did use the sleeves from Simplicity 4076 for the long sleeves. The fabric is from Joann's
It is much better with a belt. I am thinking one
these style sweaters
to wear with this wild print. Not this pricey one but something along that style. I will shop New York and Company for more my price range!
Okay, what do you think about my good, bad and ugly?
To finish this long post, a picture form Saturday. The twins and I ran in a 5K, well, I walked! Kaitlyn won the women's division, all ages. She was so proud and I was a pretty proud mom.