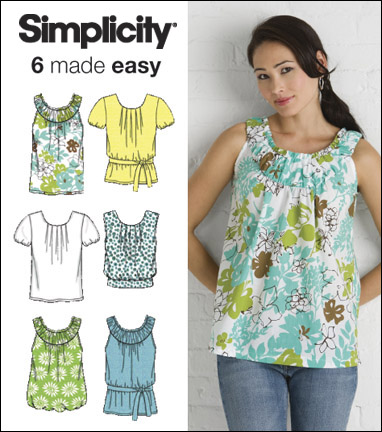 Pattern Review

Pattern:
Simplicity 2892
Description:
Misses' Tops with neckline variations and tie belt.
Sizing:
6 to 14, I made a 10. This might have been a bit too small for a woven, but I like the look of this size, not too full. I went by the finished pattern measurements and it fits fine, the only trouble I have is getting it off!
Instructions:
Fantastic, superb. I noticed with this pattern Simplicity has added extra instructions. Take this for instance, "Turn lining to the INSIDE. You will notice that the lining is shorter than the sleeve. The pattern is made way so that the sleeve will hold its "puffed" shape." I think that is very valuable information, otherwise, you might be under the impression a mistake was made. Here is a close-up of the sleeve interior, poor picture but it shows the
details.
Likes/Dislikes:
I like the shape and style. It is a loose top but not too loose, does that make sense? I really like View E, that is on my evergrowing list. I like my button on the back. If you are a regular reader to my blog, you know I have trouble choosing buttons. I bought these buttons at Hancock's at the same time as I purchased this fabric, thinking I would make a blouse and would need buttons.
Changes:
I added 2 " to the length of the garment. That was the only change. If you made this from a knit, you could eliminate the back opening.
Fabric:
A cotton blend from Hancock's and it gives the appearance of dupioni.
Conclusion:
A pretty blouse with a great neckline and fun sleeves.
Here is a picture from my front porch, this shows the color most accurately.
This pictures shows the details.
Back view:
Garden pictures. Hollyhocks.
Asiatic lillies and bee balm
More lillies. I love these flowers but they only last such a short time.
Another view:
I just planted this Gerber Daisy, these flowers were in my bridal bouquets almost 25 years ago (pink and white ones)