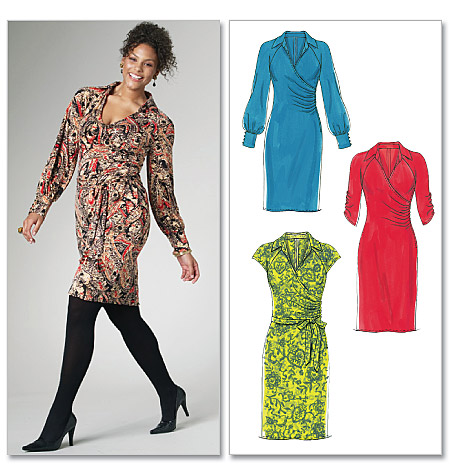 Pattern Description: Close fitting, above mid-knee length knit dress with mock wrap front, gathered at left side with collar and raglan sleeves.
Sizing:
8 to 16 and 18W to 24W
Instructions:
They are easy to follow, good beginner dress. I left off the collar and collar band, so I had to add some steps and change the order of my construction.
Changes:
This dress is for...... yes, Erin, again. We found this pattern at Joann's while at the State Softball weekend. She liked the raglan sleeves, elastic in the sleeves for a ruched effect and the gathered wrap. She was not a fan of the collar, wanted to wear sweaters with the dress and thought the collar would get in the way.
So my changes:
Sewed the center back seam
Sewed the front and back sleeves together
Stitched 1/8" elastic to the sleeve seam to make the ruching.
Sewed sleeves to front and back
Measured pattern pieces at neck edge and cross over, subtracted seam allowances. This measurement is to for the self-fabric band around the front crossover and neck edge. My fabric is very stretchy, so I subtracted 6" from the measurment for the band. I wanted the band to fit tight and pull the crossover to the body.
I then marked quarters in the front band and the edge of the dress. I matched these points and now ready to serge the band to the dress. I placed the dress on the feed dogs of the serger. I like to be able to see the band and stretch it as I sew. Also, if it looks like I will have too much dress fabric, I can adjust the differential feed to pull up some of the dress fabric.
Gather up the right front, matched it to the left front.
Sew the underarm sleeve seam and side seam all in one.
Hem and done.
Fabric:
Nice knit from Joann's, we really liked the print and colors of this one.
Conclusion:
I will sew this cute dress again, for me next time. It is a quick, stylish dress with some nice sleeve variations.
Erin just bought a cute chunky sweater in the rusty-orange color and cute short brown boot, darling outfit.
I have asked her for pictures when she wears an outfit I made. Just have a co-worker take a picture with her smart phone. I don't know if she will do that, so we will see.