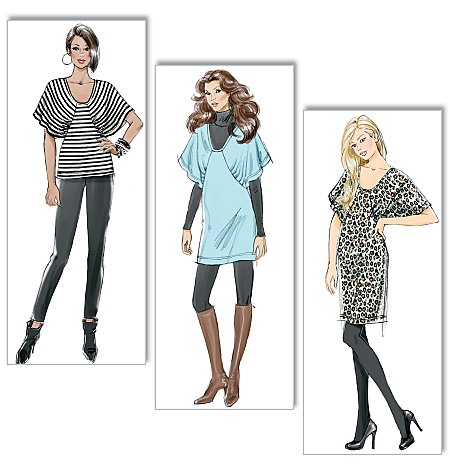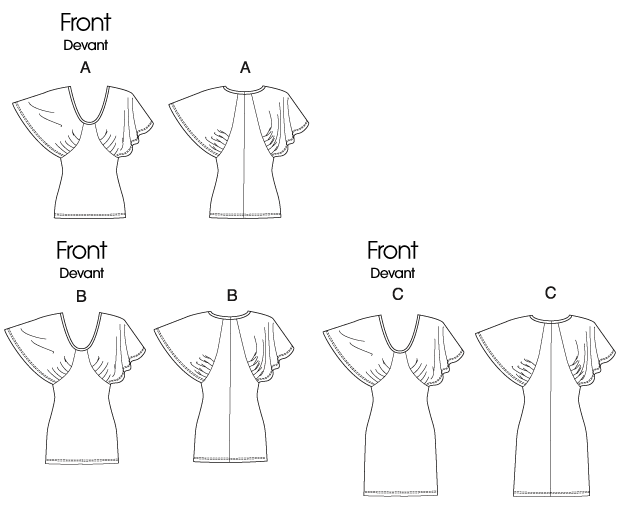 Description:
Close-fitting, pullover top A, tunic B, dress C have scooped neck with binding, drape sleeves with pleats, inset and stitched hems. A: hip length. B: below hip length. C: above mid-knee length
Sizes:
6 to 22
Likes/dislikes:
The interesting sleeves, youthful look and the center back seam.
Instructions:
The were pretty good, except for the insets, this part of the instruction left quite abit to be desired. You look at the sleeves on this top and it looks very breezy but then look again at the body of the garment and it is a pretty close fitting garment. One plus of this pattern is the insets, a front and back with sews into the bottom of the sleeve seam and the body sleeve. Great pattern piece, otherwisde not much coverage on the side seams with the big billowy sleeves. This part of the instructions has one illustration and the following
"Pin right side of inset to armhole edge over wrong side of sleeve front and back. Stitch entire armhole edge."
here is the illustration:
The sleeves take quite a bit of time to pleat and sew to the garment. I did sew the binding a couple inches shorter to keep the neckline close to the body.
Fabric:
A nice interlock found for $1.59 a yard.
Conclusion:
Cute and fun, I do think Erin will need to where a cami or long-sleeve tshirt with this one the neckline is pretty low. If you are looking for something different try this fun pattern.
Very windy day so these big sleeves were hard to photograph