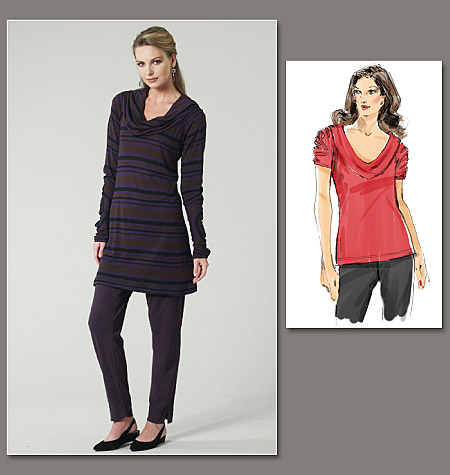 Description:
Semi-fitted, pullover tops A, B in two lengths have raglan sleeves shirred with elastic and two cowl variations, optional contrast cordless piping. Close-fitting, 1" seam pull-on pants C with side slits and elastic waist. All have stitched hems.
Pattern Sizing:
Misses and Women's sizes based on bust 32-55.
Instructions
: It is Sandra Betzina - they are great, of course.
Likes/Dislikes
: Ever since reading
Ann's Review
and her
blog post
, I knew I needed this pattern. I liked ruching, the neckline, the lengths. My only dislike, I was short of fabric and had to make some changes to the sleeves.
Changes:
I had to shorten the sleeves due to lack of fabric. The sleeves are shaped lik a "J" and the ruching is the lower part of the "J". This shape takes quite a bit of fabric and I just ran short. I cut the long length and later decided that wasn't a good look on me, so darn I could have had those long sleeves! After adjusting the length on the sleeves, I added some ruching on the sleeves. Another fabric, constraint was the smaller cowl neck.
Fabric:
A knit from Fabric.com purchased on a whim.
Conclusion:
A great top with wonderful features, quick to make and can be a great piece for your wardrobe
If you want to make view B, have 2-1/4 to 3 yards for your top. I had just under 2 yards.
Here is
Sandra Betzina's version
My top on dress form:
Cowl neck:
Sleeve Detail
Top on me:
This is how I wore it to work on Tuesday:
Belted, like this much better than no belt when wearing the top only:
thought I would try the jacket, trying to do some of the looks from
Cabi Canary
not sure I like it, what do you all think?
********************************************************************************
Thank you all for the wonderful comments on my cape, I so appreciate it.