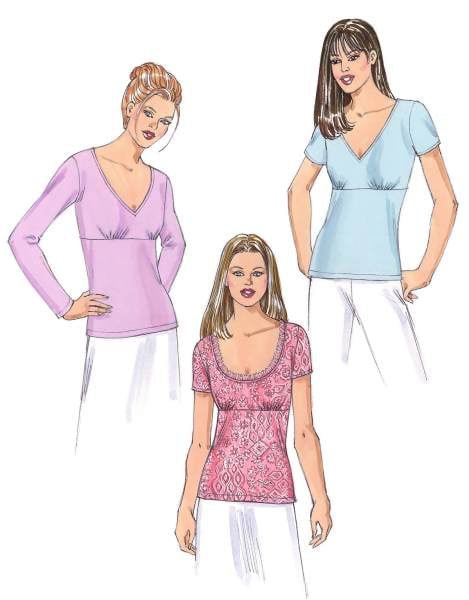 Description:
Misses' close-fitting pullover tops have empire waist on front with gathers' under bust, and neckline finished with facing. View A and B have a deep v-neckline. View C has a scoop neckline with a bias-cut ruffle from contrast sheer fabric; ruffle edge is not finished.
Sizing:
XS to XL. I made a small
Instructions:
The were great, many drawings and good explanations.
Likes/Dislikes:
I liked the empire waist, especially after reading
Inside Outstyle blog
a link provided by Brigitte. I thought I would follow the advice of the blog and try some empire waists for my H body type. I really liked the scoop neckline, but not that deep.
Changes:
This KS pattern reminds me of a BWOF pattern, very plunging neckline. I added 1-1/2" to the neckline. Also, I didn't do the facings, yuk, facings on a knit? I used a simple binding for the neckline. I also added a bit of length to the bodice. Another change, the gathers on me were a bit to the sides of the bust, I moved them to the center a bit more.
On my first one, I added a fabric bow. Mainly to cover up where I started my coverstitching, I just wasn't thinking and started that in the front. The bow does the trick.
One more change, I made a small on the last two but I had to take a bit more in from the back to make the top fit a bit better. You might measure the pattern pieces, to check and see if a smaller back piece might work better for your top.
One more note on change. I do Anne's trick for measuring the binding: Measure the pattern pieces with the tape measure on the side. Measure the front, subtract seam allowances, write that on the front pattern piece. Measure the back, write that amount less seam allowances and write that on the back pattern piece. On the front, I add these two numbers together subtract what I think is needed for the binding. Now this is number that can change. Some knits just don't have the recovery, I take a bit more off to pull the neckline in. Another way I judge this amount, I quarter the neckline and the binding. Pin these to each other, if the binding doesn't stretch much, then I unpin and take more off the binding. Hope that makes sense.
Fabric:
I have made this 3 times. The first one is my ultimate favorite. I started out with a Medium, had it traced from a few years ago. I shouldn't have been in such a hurry and traced my correct size. I had to unsew this one several times to get the size right. The fabric is an incredible 90% cotton 10% lycra, you can get it here at
Needle Nook
. I called Anne to get more fabric of this content but this was the only one at the time. Darn, but it saved me money, I probably would have purchased tons!
The second top is from a knit (thin, not much recovery) from Denver Fabrics, I made a small, taking in a bit at the back, this knit stretched all out of shape. I was disappointed but thought it would be fine for work. I washed it in hot water and a dried it. That did the trick , I wore the top last night and it fit perfectly, hurray!
The third top is from a knit I purchased locally, another great fit. The fabric is nice but not as nice as the first.
Conclusion:
A great top and yes the blog was right, the empire waist does look great. Plus this Kwik Sew is a winner. I see several more in my future. In fact, I have 2 solid knits on the sewing table for this pattern.
Here is top #1, it is hard to see the empire lines on this fabric, you will be able to see them on the last 2 tops.
Here is a picture on me, look my eyes are open:
Then the girls were making fun of me all posing the same, so I did a silly model pose, and they snapped the picture and then burst laughing. I thought it was pretty good so I posted it.
Here is top #2. Yesterday it was cool here and cloudy and windy, 70's in July, unbelievable. Hubby and I went out shopping for a new couch. I added a turquoise cardigan and a belt, it looked very cute. You can see the empire waist in this fabric.
Top #3, another winner
Today I gave the girls these choices, paint #3 dd's bedroom, take the bikes and ride the Katy Trail. That was their choice, then hubby came in from the farm chores and added mow the yard, that met with groans, ha ha. It does need to be done, we leave on Thursday for vacation. Hurray, beach here we come.
************************************************************************************
Don't forget to read July 18's post, there is a chance to win something. My 400th post.