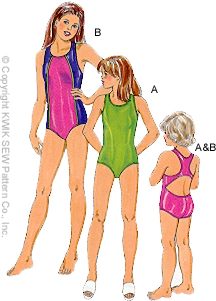 Pattern Review


Pattern:
Kwik Sew 2790
Description:
The suits have racing backs, a low back waists, crotch lining, and all of the outside edges are finished with elastic. View B has front panels and piping made from contrast fabrics.
Sizing:
8 to 14
Instructions:
As always, Kwik Sew instructions are fantastic. This suit is a great one-piece and is easy to sew. The instructions are in concise with an easy to understand order.
Likes/Dislikes:
A conservative one-piece suit with a bit of flair, especially with the cute back view. Also, a nice pieced option, which is a great way to use up scraps of swimsuit fabric.
Changes:
I have had this pattern for years, probably started making the twins this suit in the size 8. Anne at Needle Nook suggested this change. Take a look at the back view, look how high cut the racing back appears to be. Anne told me it would be very hard to get on and off, she was exactly right. I would not have noticed this but I am so appreciative she pointed this out. I redrew the back piece with more of a v-shape and making sure the straps didn't get too skinny. Remember you will have 3/8" elastic on each side of the strap.
I added 1" to the body of the suit for the girls' height.
Also, I use Anne's recommendation for elastic, especially with the legs. Measure the pattern pieces, subtract seam allowances. Front leg measurement, subtract 1", back leg measurement subtract 3". This really helps the suit stay in place. Great tip.
Fabric:
Swimsuit fabric from Fabric.com, is was on sale so I added it to my cart. The girls aren't crazy about the print but they said it was fine. They like to wear one-piece suits when they really want to swim, race and dive.

Conclusion:
Swimsuits are so easy and quick, plus, they save you sooooo much money.
Here you can tell how I reshaped the racing back.
All together the girls have 4 new swimsuits.
Other sewing for me, I have made 5 new knit tops. I will get pictures after this weekend, family reunion tomorrow at my house.