I love Simplicity 4076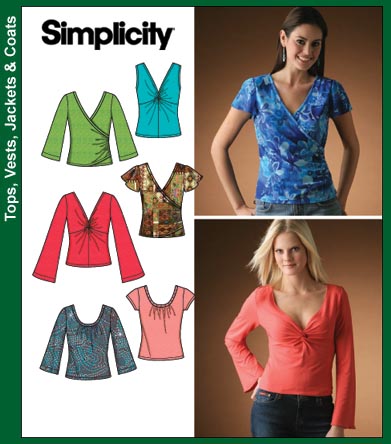 and have sewn it several times, only the view with the gathered neckline (bottom two pictures on the pattern envelope). Well, I have this wonderful fabric from Gorgeous Fabrics and want to make a knit shirt but this fabric needed a great design. I was looking throught some magazines and college daughter asked what I was looking for. I told her a great top to inspire some sewing. We talked for a bit about what I was looking for in my inspiration. She had the perfect top in her closet. a Christmas present from her boyfriend. It was from Anthropologie and here is a picture:
I loved the shirring and started thinking about how I could do this. Well, I dug in my pattern cabinet and found Vogue 8181.
I used the shirring from the Vogue dress on my top. I redrafted the Simplicity pattern by lowering the neckline the width of Vogue's shirred piece. The shirring was gathered and attached to the bodice of Simplicity 4076. I then gathered the top of the shirring and basted on the binding from the Simplicity pattern. A quick fitting of the neckline proved the shirring was good, binding was just right, so serged the binding to the shirring and then a bit of hand-sewing to tack down the binding to the wrong side.
A bow added to finish it off.
I was going to bell out the sleeves, add elastic inside the black fabric (made it a casing) but I really didn't like this look. So out came the elastic, the sleeves straightened. I do like the black fabric for a bit of detail.
Shirring on the back.
I love my new top and the process to reach it.