First,
thank you and thank you
for all the kind comments on my previous posts, I deeply appreciate it. I have thought of that moment many times this weekend and it brings a big smile to my face.
Now to sewing, I made Simplicity 3838
Used this for the inspiration (Anthropologie)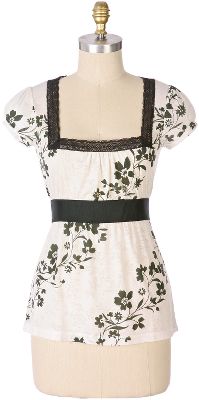 And this is my garment, printed fabric from Gorgeous things and the black is from Needle Nook.
My changes
- omitted the CF seam, redrew the neckline. Square necks aren't the best for me, so I did a scoop neck
- added 1" to the bodice
-my fabric is knit and I was able to omit the back zipper
- I made a size 12 but had to take quite a bit in at the waistline. If I made it from a knit again, I would make a size 10 at the waist area
- the fabric is a 4-way stretch and I wanted the flower running vertically so I cut the pattern on the cross grain.
I had some fabric left and needed to make something else, so a casual tee from Simplicity 4076
My shirt:
Check out this cool elastic trim from Needle Nook, isn't it great?